WANNA BE RIGHT (2020) (SINGLE)
During the US coronavirus pandemic of 2020, Andrew and the band decided to make the most of it, and record a song all by themselves. Using only their equipment at home and their amateur know-how, everyone was able to record their parts miles away from each other at safe social distance. 
"Wanna Be Right" was engineered, mixed, and mastered by Terrance Reeves. 
Personnel:
Andrew Geano (vocals, rhythm guitar, writer)
Rich DellaRocca (drums)
Jaime Pepper (bass)
Nate Staub (lead guitar)
SOMETHiNG I INVENT (2019) (ALBUM)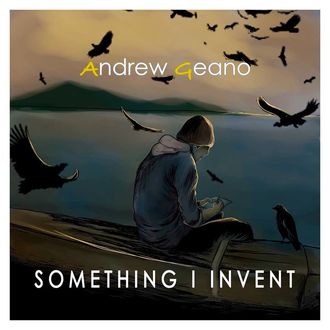 Andrew's debut LP was released in April of 2019 and is now available everywhere songs are downloaded and streamed. 
The album was recorded at The Record Company in Dorchester, MA and produced/engineered by Adam Sickler (www.adamsickler.com) , except for "Under Control" which was produced/engineered by Terrance Reevers (www.terrancereeves.com)
Personnel:  
Andrew Geano (vocals, lyrics, rhythm guitar, MIDI programming)  
Danielle Pinals (vocals, co-writer on "Under Control") 
Nate Staub (lead guitar, keyboards)  
Jaime Pepper (bass, vocals)  
Rich DellaRocca (drums, percussion)  
Terrance Reeves (spoken word, drums, and MIDI programming on "Under Control") 
Mary Casiello (piano on "One Thing")  
Suzanne Friedman (spoken word on "No News Is Good News")  
Adam Sickler (MIDI programming, vocals on "No News Is Good News")