PRIVATE EVENTS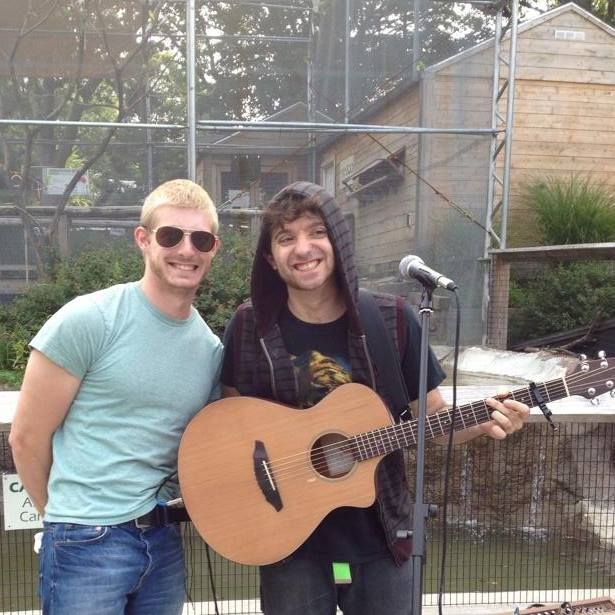 ANDREW COMES TO YOU!
Looking to add to your wedding reception/birthday party/corporate event? Look no further than the musical services of Andrew Geano! Andrew has played all types of private events (including wedding proposals) for the last ten 10+ years and knows how to provide the perfect backdrop to any type of event you're looking to hold.
Looking for soft ballds, raging jammers, or catchy Top-40 material? Andrew has an arsenal of over 250+ tunes and can create exactly the type of ambience best suited for the occasion. Andrew is increasing his repetoire nearly every week and is happy to learn YOUR favorite song by request.
Use the contact form below to inquire about bookings and feel free peruse the ever increasing song book.
You won't regret Andrew's services. :)
SONGBOOK
| Song | Artist |
| --- | --- |
| Caught Up In You | .38 SPECIAL |
| Ironic | ALANIS MORISSETTE |
| You Learn | ALANIS MORISSETTE |
| Smooth Criminal | ALIEN ANT FARM |
| Melissa | ALLMAN BROTHERS BAND |
| Midnight Rider | ALLMAN BROTHERS BAND |
| Ramblin' Man | ALLMAN BROTHERS BAND |
| Sister Golden Hair | AMERICA |
| Don't Let Me Be Misunderstood | ANIMALS |
| House of The Rising Sun | ANIMALS |
| Pieces of Me | ASHLEE SIMPSON |
| It's All Been Done | BARENAKED LADIES |
| The Old Apartment | BARENAKED LADIES |
| Hey Jude | BEATLES |
| Black Bird | BEATLES |
| Here Comes The Sun | BEATLES |
| I Saw Her Standing There | BEATLES |
| I've Just Seen A Face | BEATLES |
| Come Together | BEATLES |
| When I'm Sixty-Four | BEATLES |
| Good | BETTER THAN EZRA |
| All The Small Things | BLINK-182 |
| Dammit | BLINK-182 |
| Rock Show | BLINK-182 |
| Wendy Clear | BLINK-182 |
| What's My Age Again | BLINK-182 |
| The Boy Who Blocked His Own Shot | BRAND NEW |
| Play Crack The Sky | BRAND NEW |
| Secondary | BRAND NEW |
| Seventy Times Seven | BRAND NEW |
| Soco Amaretto Lime | BRAND NEW |
| Atlantic City | BRUCE SPRINGSTEEN |
| I'm On Fire | BRUCE SPRINGSTEEN |
| Smooth | CARLOS SANTANA FEAT. ROB THOMAS |
| Will You Love Me Tomorrow? | CAROLE KING |
| Close To You | CARPENTERS |
| My Heart Will Go On | CELINE DION |
| That's The Way It Is | CELINE DION |
| I Want You To Want Me | CHEAP TRICK |
| Blood Red Summer | COHEED & CAMBRIA |
| Feathers | COHEED & CAMBRIA |
| The Suffering | COHEED & CAMBRIA |
| Wake Up | COHEED & CAMBRIA |
| Realize | COLBIE CALLIAT |
| GREEN EYES | COLDPLAY |
| The Scientist | COLDPLAY |
| Sparks | COLDPLAY |
| Warning Sign | COLDPLAY |
| Yellow | COLDPLAY |
| Bad Moon | CREDENCE CLEARWATER REVIVAL |
| Have You Ever Seen The Rain? | CREDENCE CLEARWATER REVIVAL |
| Proud Mary | CREDENCE CLEARWATER REVIVAL |
| Hands Down | DASHBOARD CONFESSIONAL |
| Vindicated | DASHBOARD CONFESSIONAL |
| Just a Gigolo / I Ain't Got Nobody | DAVID LEE ROTH |
| I'll Follow You Into The Dark | DEATH CAB FOR CUTIE |
| Come On Eileen | DEXY'S MIDNIGHT RUNNER |
| Romeo & Juliet | DIRE STRAITS |
| Take It Easy | EAGLES |
| Can't Get It Out Of My Head | ELECTRIC LIGHT ORCHESTRA |
| Dream A Little Dream | ELLA FITZGERALD |
| Tiny Dancer | ELTON JOHN |
| Bennie And The Jets | ELTON JOHN |
| Honky Cat | ELTON JOHN |
| I Beg Of You | ELVIS PRESELY |
| Criminal | FIONA APPLE |
| Go Your Own Way | FLEETWOOD MAC |
| Landslide | FLEETWOOD MAC |
| Never Going Back Again | FLEETWOOD MAC |
| Second Hand News | FLEETWOOD MAC |
| Dreams | FLEETWOOD MAC |
| The Most Beautiful Girl In The Room | FLIGHT OF THE CONCORDS |
| Business Time | FLIGHT OF THE CONCORDS |
| "I'm Ready, I Am | THE FORMAT |
| Hey Julie | FOUNTAINS OF WAYNE |
| Hung Up On You | FOUNTAINS OF WAYNE |
| Mexican Wine | FOUNTAINS OF WAYNE |
| You Make Me Feel So Young | FRANK SINATRA |
| Do You Wanna Build a Snowman? | FROZEN SOUNDTRACK |
| That's All | GENESIS |
| Follow You Down | GIN BLOSSOMS |
| Found Out About You | GIN BLOSSOMS |
| Hey Jealousy | GIN BLOSSOMS |
| Broadway | GOO GOO DOLLS |
| Black Balloon | GOO GOO DOLLS |
| Name | GOO GOO DOLLS |
| Slide | GOO GOO DOLLS |
| The Anthem | GOOD CHARLOTTE |
| Mr. Charlie | GRATEFUL DEAD |
| Deal | GRATEFUL DEAD |
| Brain Strew | GREEN DAY |
| Good Riddance | GREEN DAY |
| Let Her Cry | HOOTIE & THE BLOWFISH |
| Monster | IMAGINE DRAGONS |
| Radioactive | IMAGINE DRAGONS |
| The Chain | INGRID MICHAELSON |
| Sombody's Baby | JACKSON BROWNE |
| Elephant | JASON ISBELL |
| Stockholm | JASON ISBELL |
| Codine | JASON ISBELL |
| Curbside Prophet | JASON MRAZ |
| Details In The Fabric | JASON MRAZ |
| On Love, In Sadness | JASON MRAZ |
| Sleeping To Dream | JASON MRAZ |
| The Remedy | JASON MRAZ |
| You And I Both | JASON MRAZ |
| A Praise Chorus | JIMMY EAT WORLD |
| Big Casino | JIMMY EAT WORLD |
| Hear You Me | JIMMY EAT WORLD |
| The Middle | JIMMY EAT WORLD |
| Movielike | JIMMY EAT WORLD |
| Daughters | JIMMY EAT WORLD |
| Country Roads | JOHN DENVER |
| Not Myself | JOHN MAYER |
| Saint Patrick's Day | JOHN MAYER |
| Stop This Train | JOHN MAYER |
| Why Georgia | JOHN MAYER |
| Sunshine | JONATHAN EDWARDS |
| Strawberry Bubblegum | JUSTIN TIMBERLAKE |
| What Goes Around | JUSTIN TIMBERLAKE |
| My House | KACEY MUSGRAVES |
| Tangerine | LED ZEPPELIN |
| Steal My Sunshine | LEN |
| Stay | LISA LOEB |
| My Own Worst Enemy | LIT |
| Never Said | LIZ PHAIR |
| Perfect World | LIZ PHAIR |
| Polyester Bride | LIZ PHAIR |
| Just a Gigolo / I Ain't Got Nobody | LOUIS PRIMA |
| Stubborn Love | LUMINEERS |
| Sunday Morning | MAROON 5 |
| She Will Be Loved | MAROON 5 |
| Someday Someway | MARSHALL CRENSHAW |
| Real World | MATCHBOX 20 |
| 3AM | MATCHBOX 20 |
| Champagne Supernova | MATT NATHANSON |
| Oh Me | MEAT PUPPETS |
| Lake of Fire | MEAT PUPPETS |
| Bitch | MEREDITH BROOKS |
| Smooth Criminal | MICHAEL JACKSON |
| Everything | MICHELLE BRANCH |
| All You Wanted | MICHELLE BRANCH |
| Words | MISSING PERSONS |
| Rainbow Connection | MUPPETS |
| Come in Alone | MY BLOODY VALENTINE |
| Teenagers | MY CHEMICAL ROMANCE |
| Lithium | NIRVANA |
| About a Girl | NIRVANA |
| Smells Like Teen Spirit | NIRVANA |
| Heart Shaped Box | NIRVANA |
| Come Away With Me | NORAH JONES |
| Shoot The Moon | NORAH JONES |
| Wonderwall | OASIS |
| CHAMPAGNE SUPERNOVA | OASIS |
| Pretty Fly For A White Guy | OFFSPRING |
| Kristy, Are You Doing Okay? | OFFSPRING |
| Wagon Wheel | OLD CROW MEDICINE SHOW |
| Ain't It Fun | PARAMORE |
| Hit Me With Your Best Shot | PAT BENATAR |
| Because The Night | PATTI SMITH |
| Cut Your Hair | PAVEMENT |
| Date w/ Ikea | PAVEMENT |
| Here | PAVEMENT |
| Gold Soundz | PAVEMENT |
| Platform Blues | PAVEMENT |
| Summer Babe | PAVEMENT |
| Stereo | PAVEMENT |
| Black | PEARL JAM |
| Happy | PHARRELL WILLIAMS |
| Here Comes Your Man | PIXIES |
| Hey | PIXIES |
| Isla De Ecanta | PIXIES |
| Where Is My Mind? | PIXIES |
| Every Breath You Take | POLICE |
| King of Pain | POLICE |
| Syncronicity I | POLICE |
| I Could Never Take The Place Of Your Man | PRINCE |
| Whiter Shade of Pale | PROCOL HARUM |
| Crazy Little Thing Called Love | QUEEN |
| Camera | R.E.M. |
| It's The End of the World As We Know It (And I Feel Fine) | R.E.M. |
| Losing My Religion | R.E.M. |
| Man On The Moon | R.E.M. |
| What's The Frequency Kenneth? | R.E.M. |
| Black Star | RADIOHEAD |
| Creep | RADIOHEAD |
| Fake Plastic Trees | RADIOHEAD |
| High & Dry | RADIOHEAD |
| Karma Police | RADIOHEAD |
| Let Down | RADIOHEAD |
| My Iron Lung | RADIOHEAD |
| Nice Dream | RADIOHEAD |
| Optimistic | RADIOHEAD |
| Street Spirit (Fade Out) | RADIOHEAD |
| There There | RADIOHEAD |
| True Love Waits | RADIOHEAD |
| Thinking About You | RADIOHEAD |
| Scar Tissue | RED HOT CHILLI PEPPERS |
| Unsatisfied | REPLACEMENTS |
| Addicted To Love | ROBERT PALMER |
| Blurred Lines | ROBIN THICKE |
| Beast of Burden | ROLLING STONES |
| Can't Always Get What You Want | ROLLING STONES |
| Dead Flowers | ROLLING STONES |
| Honky Tonk Woman | ROLLING STONES |
| Paint It Black | ROLLING STONES |
| Ruby Tuesday | ROLLING STONES |
| Today's Teardrops | ROY ORBINSON |
| Subdivisions | RUSH |
| I Woke Up In A Car | SOMETHING CORPORATE |
| Dirty Water | STANDELLS |
| Do It Again | STEELY DAN |
| Interstate Love Song | STONE TEMPLE PLIOTS |
| Garden Grove | SUBLIME |
| Santeria | SUBLIME |
| What I Got | SUBLIME |
| Cute Without The "E" (Cut From the Team) | TAKING BACK SUNDAY |
| We Are Never Getting Back Together | TAYLOR SWIFT |
| Stay | TAYLOR SWIFT |
| Hungry | TEMPLE OF THE DOG |
| * Her Gently | TENACIOUS D |
| Keilbasa Sausage | TENACIOUS D |
| Wonderboy | TENACIOUS D |
| Ophelia | THE BAND |
| Up On Cripple Creek | THE BAND |
| The Weight | THE BAND |
| There Is A Light And It Never Goes Out | THE SMITHS |
| This Charming Man | THE SMITHS |
| Forget Myself | THIRD EYE BLIND |
| How's It Going To Be | THIRD EYE BLIND |
| Never Let You Go | THIRD EYE BLIND |
| Semi-Charmed Life | THIRD EYE BLIND |
| Play A Train Song | TODD SNIDER |
| Good Fortune | TODD SNIDER |
| Just Like Old Times | TODD SNIDER |
| Breakdown | TOM PETTY |
| Free Fallin' | TOM PETTY |
| American Girl | TOM PETTY |
| Mary Jane's Last Dance | TOM PETTY |
| Ol' 55 | TOM WAITS |
| 867-5309/Jenny | TOMMY TUTONE |
| Love Isn't Always On Time | TOTO |
| Drops of Jupiter | TRAIN |
| Meet Virginia | TRAIN |
| Marry Me | TRAIN |
| Jump | VAN HALEN |
| In The Garage | WEEZER |
| El Scorcho | WEEZER |
| Hash Pipe | WEEZER |
| Island In The Sun | WEEZER |
| My Name Is Jonas | WEEZER |
| Say It Ain't So | WEEZER |
| Undone (The Sweater Song) | WEEZER |
| Yoda | WEIRD AL YANKOVIC |
| Teenage Dirtbag | WHEATUS |